YouTube Announcement is Good News for Children
I received the following email from my Youtube channel managers today. It states that laws have changed to require creators to indicator if their product is made for children.  Finally, limits are being placed on creators that didn't exist before, and this offers a small measure of protection from possible exposure to inappropriate material.
The letter, however, also indicates that Youtube is "working with" creators. This makes me a little skeptical about what that means. (the red wording)
Consequently, parents need to continue to monitor what their children are viewing. Watching Youtube programs with your children will add an even better filter and protection for them. When my children were young, we only had one television in the house. This was unusual in my neighborhood where many children had televisions in their own rooms. I felt it was important for us to watch it together. I was shocked at times to see inappropriate behavior in their children's programing. Watching with them offered opportunities to discuss what they were seeing. Today, parents can do the same thing with their children's Youtube viewing. I cuddle up with my grandchildren and watch what they enjoy. Doing so has opened up many interesting discussions and lots of laughter. The teen material my granddaughter watches has helped me gain insight into her values. If I see something inappropriate, we discuss it. 
Hi Victoria Olivadoti,
Last September, we

 

announced

 

a series of changes that we'd be making to better protect kids and their privacy on YouTube, and to address the concerns raised to us by the U.S. Federal Trade Commission (FTC).
Specifically, that all creators would be required to designate their content as made for kids or not made for kids in YouTube Studio, and that personal information from anyone watching a video designated as made for kids would be treated as coming from a child, regardless of the age of the user.
Starting today, we will no longer serve personalized ads or support features such as comments, Stories, live chat, notification bell, and

 

others

 

on videos designated made for kids.
We know these changes may have significant impact on creators making kids content, so we're committed to helping them navigate this new landscape. We continue to engage on this issue, including by participating in the FTC's open comment period. We know many creators have provided valuable feedback as well.
If you haven't already, please ensure you have

 

set your channel (or individual videos)

 

as made for kids or not, as this will ultimately determine how your content is treated on YouTube.
Creators know their content best, and should set the designation themselves. We also use machine learning to help us identify this content, and creators can update a designation made by our systems if they believe it is incorrect.

 

We will only override a change if abuse or error is detected

.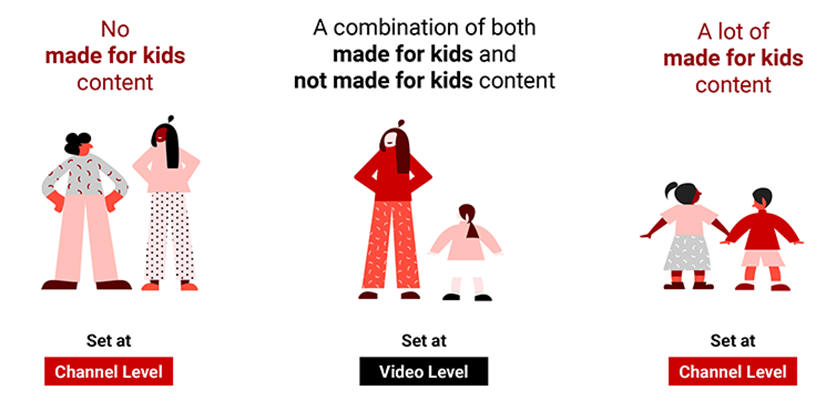 Thank You
The YouTube Team